LAST MAN CLUB MOVIE
NOW ON DVD & DIGITAL HD
A movie for Veterans everywhere!
---
Get The Movie On DVD
DVD 3-Pack 20% OFF
DVD 5-Pack 30% OFF
---
ALSO AVAILABLE ON:

iTunes
Amazon
Google Play
Vudu
YouTube
Cablevision, Charter, Comcast, Comcast Xfinity, Cox, DirecTV, Dish, Spectrum, Sony PlayStation, Sling, Time Warner, Verizon, and Xbox!
NOTE: Even if your cable system is not listed above, it's likely "Last Man Club" is on your system, so please check via your "Search" function. Thank you!
---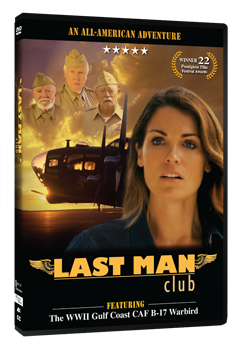 LAST MAN CLUB is a heartwarming, road trip adventure movie. To avoid a retirement home, a World War II veteran escapes to search for the last surviving members of his B-17 crew—and for one final mission. 
As he starts finding his buddies, a beautiful young woman fleeing her gangster boyfriend becomes an unlikely accomplice. With the police, the mob and the FBI now in hot pursuit, it's a race to fulfill what might be their last great adventure! 
DVD features an audio description track for the sight challenged and blind, and closed captioning for the deaf and hard of hearing.

"A HEARTWARMING TALE OF LOYALTY, HONOR, RELATIONSHIPS...NOT TO BE MISSED!" - Influx Magazine
"A DAMN FINE FILM." - CNN
"WILL LIKELY STAND TALL ALONGSIDE SIMILAR OLD-BUDDY TREASURES LIKE GRUMPY OLD MEN AND COCOON! — Gas Mask Magazine